Hamasushi-Japan's Sushi Chain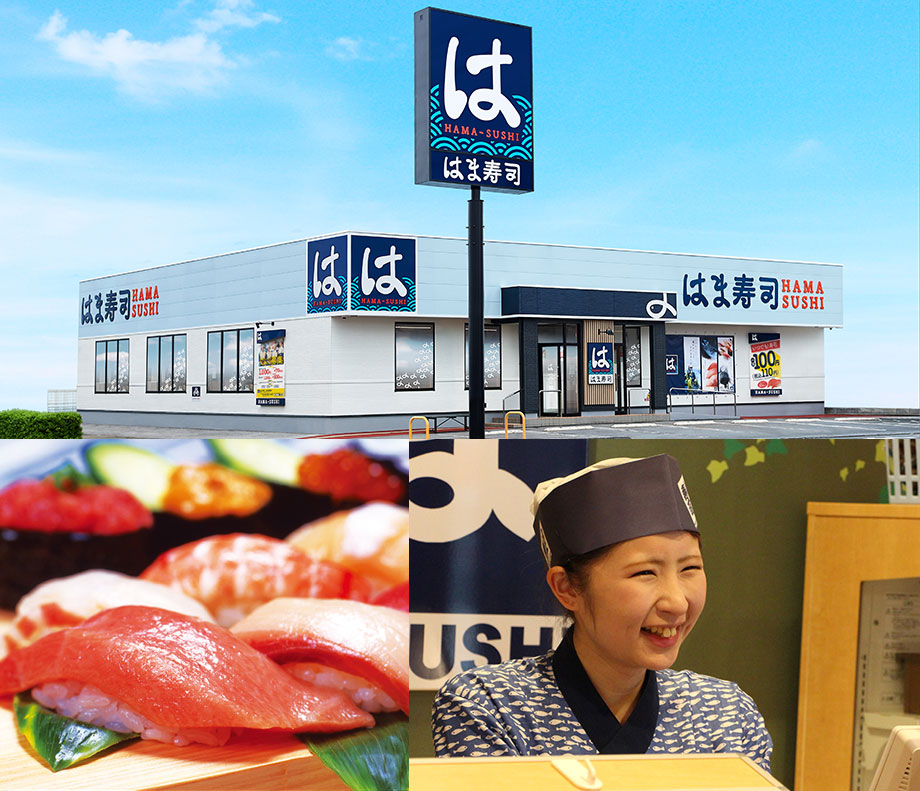 Hamasushi is a popular Japanese chain of
sushi restaurants with more than 500 outlets
across Japan.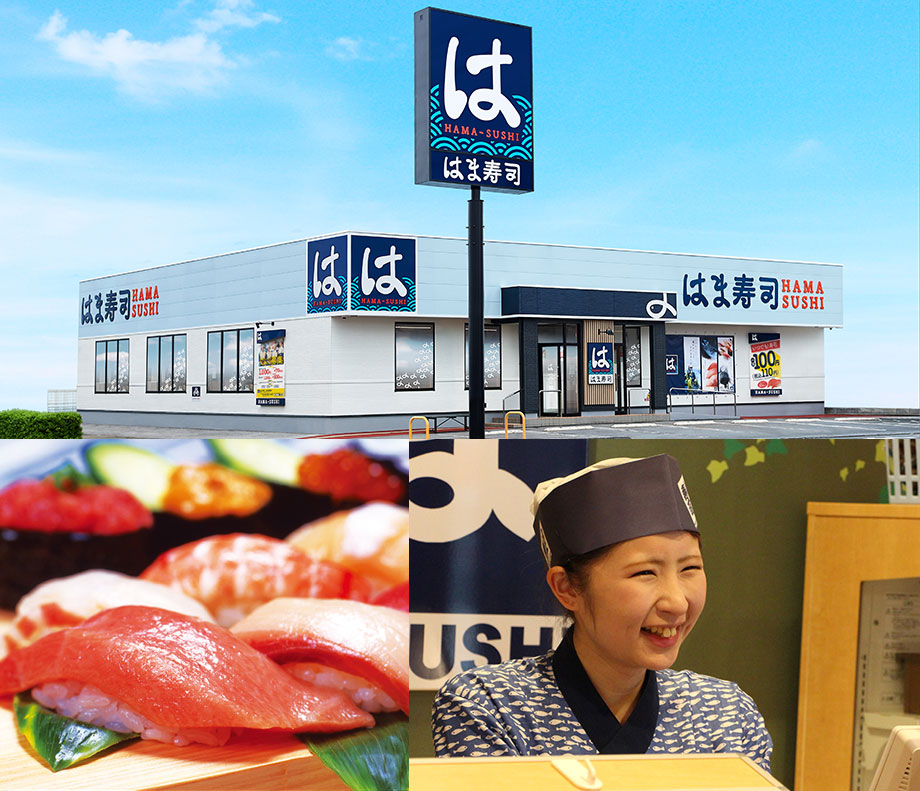 At Hamasushi, you can enjoy sushi made with the freshest and tastiest fish at reasonable prices. As most menu items are JPY110 per plate (with tax) you can eat to your heart's content without worrying about the price. Hamasushi has an extensive lineup of menu items from standard tuna and salmon sushi to unique sushi varieties including beef. Other than sushi, Hamasushi also offers deep-fried foods and noodles such as ramen. We hope you will find and enjoy Hamasushi conveniently located near your hotels and sites you visit during your stay in Japan.
MENU
What's Nigiri?

It's said that Nigiri Sushi was invented by Hanaya Yohei, a sushi artisan in the late Edo (1603-1868) Period, and now has become perhaps Japan's most traditional "fast-food." Known worldwide, Nigiri Sushi is essentially sliced fish (or another menu item) placed atop a handcrafted (nigiri) piece of steamed white rice flavored with sweetened vinegar. Hamasushi offers the traditional assortment of Sushi toppings such as raw tuna, salmon and shrimp as well as the most contemporary Sushi, included torched Sushi, tempura, roast beef, prosciutto and other exciting options to please your Sushi palate.
What's Gunkan?

Gunkan is a form of sushi named after the Gunkan, or Navy Battleship. Similar to Nigiri Sushi, an oblong round piece of steamed white rice flavored with a little sweetened vinegar is used for this form as well, but the Sushi is then wrapped with a dried seaweed sheet, forming the shape of a boat, or Battleship. The Gunkan was invented as an ideal platform to hold and give shape to delicate Sushi items such as salmon caviars, sea urchin and minced tuna, which are popular at Hamasushi. In addition to these delicious options, we also have customer favorites such as natto (fermented soy beans), corn and Crab Butter.
Our Side Dishes

Our popular side dishes include egg custard, udon, and ramen, as well as miso soup and garden salads too.
Our Desserts

After a healthy and delicious Hamasushi meal, you will love our specialty deserts such as our rich Hamasushi chocolate cake, cheesecake or pudding. You will also love our original ice-cream, Hama-Ice now available in three flavors, Vanilla, Chocolate and Maccha Green Tea flavors.
Lean Tuna
Soy-Sauce-Marinated Tuna
Fatty Albacore
Fatty Albacore with Horse Radish
Fatty Albacore w/ Avocado
Special Fatty Salmon
Seared Fatty Salmon
Salmon
Special Fatty Salmon with Horse Radish
Salmon & Avocado
Salmon & Sliced Onion
Fluke Fin
Vinegared Mackerel
Whelk
Boiled Shrimp
Shrimp
Deep-Water Shrimp
Boiled Shrimp & Avocado
Squid
Squid with Salty Citrus
Octopus
Octopus w/ Japanese Basil
Wasabi-Flavored Pickled Eggplant
Egg Omelet
Flamed Fatty Salmon with Mayonnaise
Flamed Fatty Salmon with Cheese
Flamed Shrimp with Mayonnaise
Flamed Shrimp & Cheese
Simmered Sea Eel
Simmered Sea Eel w/ Salty Citrus
Yellowtail Ike-Jime
Flamed Yellowtail w/ Salty Citrus
Roast Beef
Roast Beef with Horse Radish
Grilled Beef Rib
Grilled Beef Rib w/ Mayonnaise
Smoked Duck
Smoked Duck & Sliced Onion
Prosciutto
Prosciutto & Sliced Onion
Chopped Steak
Chopped Steak with Cheese
Shrimp Tempura
Squid Tempura
Squid Tempura w/ Garlic Mayonnaise
DRINK
Apple Juice
Yogurt-Flavored Drink
Calpis Lactic Beverage
Calpicis with Fanta Melon
Calpis Soda
Coca-Cola
Fanta Melon
Peach Drink
Iced Café Latte
Iced Coffee
Hot Café Latte
Hot Coffee with Cream & Sugar
Non-alcohollic Beer
Whisky & Soda
Draft Beer (small)
Grapefruit Sour
Draft Beer (regular)
Japanese Sake (Gekkeikan)
Bottled Beer
Sweet Potato Shochu
Barley Shochu
Lean Tuna Bits Gunkan
Diced Tuna w/ Yukhoe Sauce Gunkan
Flying Fish Caviar Gunkan
Minced Tuna Gunkan
Minced Tuna & Natto Gunkan
Natto Gunkan
Young Sardine Gunkan
Wasabi-Flavored Fluke Fin Gunkan
Fried Chicken Gunkan
Tuna Salad Gunkan
Seafood Salad Gunkan
Corn & Mayonnaise Gunkan
Squid & Okra Gunkan
Squid & Okra with Natto Gunkan
Minced Tuna w/ Yukhoe Sauce Gunkan
Lean Tuna Rolls
Cucumber Rolls
Simmered Gourd Rolls
Natto Rolls
California Rolls
Soused Mackerel Pressed Sushi
Fried Soybean Curd Wrap
DRINK
Apple Juice
Yogurt-Flavored Drink
Calpis Lactic Beverage
Calpicis with Fanta Melon
Calpis Soda
Coca-Cola
Fanta Melon
Peach Drink
Iced Café Latte
Iced Coffee
Hot Café Latte
Hot Coffee with Cream & Sugar
Non-alcohollic Beer
Whisky & Soda
Draft Beer (small)
Grapefruit Sour
Draft Beer (regular)
Japanese Sake (Gekkeikan)
Bottled Beer
Sweet Potato Shochu
Barley Shochu
Egg Omelet
Sake-Steamed Clams
Octopus Dough Balls w/ Mayonnaise
Boiled & Salted Green Soybeans
Crispy French Fries
Crispy French Fries with Cheese
Fried Chicken
Fried Chicken Cartilage
Fried Tuna with Japanese Basil
Sea Lettuce Miso Soup
Clam Miso Soup
Special Pork Miso Soup
Unsweetened Egg Custard
Shrimp Tempura Udon Noodles
Deep-Fried Bean Curd Udon Noodles
Shrimp Tempura Soba Noodles
Steamed Duck Soba Noodles
Sliced Yellowtail Ike-Jime
Sliced Salmon
Sliced Tuna
Sliced Roast Beef
DRINK
Apple Juice
Yogurt-Flavored Drink
Calpis Lactic Beverage
Calpicis with Fanta Melon
Calpis Soda
Coca-Cola
Fanta Melon
Peach Drink
Iced Café Latte
Iced Coffee
Hot Café Latte
Hot Coffee with Cream & Sugar
Non-alcohollic Beer
Whisky & Soda
Draft Beer (small)
Grapefruit Sour
Draft Beer (regular)
Japanese Sake (Gekkeikan)
Bottled Beer
Sweet Potato Shochu
Barley Shochu
Mille Crepes
Rich Cheese Cake
Soft Chocolate Cake
Pudding
3-Colored Sweet Dumplings
Candied Sweet Potatoes
Cut Pinapple
Vanila Ice Cream
Chocolate Ice Cream
DRINK
Apple Juice
Yogurt-Flavored Drink
Calpis Lactic Beverage
Calpicis with Fanta Melon
Calpis Soda
Coca-Cola
Fanta Melon
Peach Drink
Iced Café Latte
Iced Coffee
Hot Café Latte
Hot Coffee with Cream & Sugar
Non-alcohollic Beer
Whisky & Soda
Draft Beer (small)
Grapefruit Sour
Draft Beer (regular)
Japanese Sake (Gekkeikan)
Bottled Beer
Sweet Potato Shochu
Barley Shochu